Nat, Cody, and Robert are joined by Angela Fabbrini to look at various takes on vampires that fall outside the European tradition including BLACULA, MYSTICS IN BALI, and MR. VAMPIRE.
First up is 1972's BLACULA. BLACULA brings a blaxploitation spin to the vampire myth with African prince Mamuwalde (William Marshall) being turned into a vampire by Dracula himself and being awakened in contemporary Los Angeles. The resurrected Blacula soon encounters the spitting image of his wife, bringing the trope to the vampire genre perhaps for the first time, and is soon being hunted by the modern police force.
BLACULA is a fresh spin on the genre and works chiefly due to a sensitive and committed performance by William Marshall. It succeeds where contemporaries like DRACULA A.D. 1972 come up short, by modernizing the vampire tale and making it relevant to the modern audience. There's a lot to talk about here.
Next, we travel all the way to Bali for the Indonesian film MYSTICS IN BALI from 1981. MYSTICS IN BALI is a truly bizarre film featuring Leák black magic, inexperienced actors, crazy special effects sequences, the penanggal vampire myth, shape shifting, and magic battles. It's wild. It's crazy. It's a far cry from Hollywood. It has to be seen to be believed. We have a lot to say.
Finally, we travel to Hong Kong and hopping vampires with 1985's MR. VAMPIRE. Bad haircuts, a prominent unibrow, a sexy ghosts, mistaken identities, and plenty of martial arts. There's not much plot here, but there is plenty of incidents of humor and action.  It's nonsense, but highly enjoyable nonsense.
You're not going to need to journey to find a witch to teach you black magic in order to listen to this episode. You can give us a play below or Download the episode. Also, feel free to let us know what you think by commenting below or Email Us at skiespocast@gmail.com as we appreciate feedback.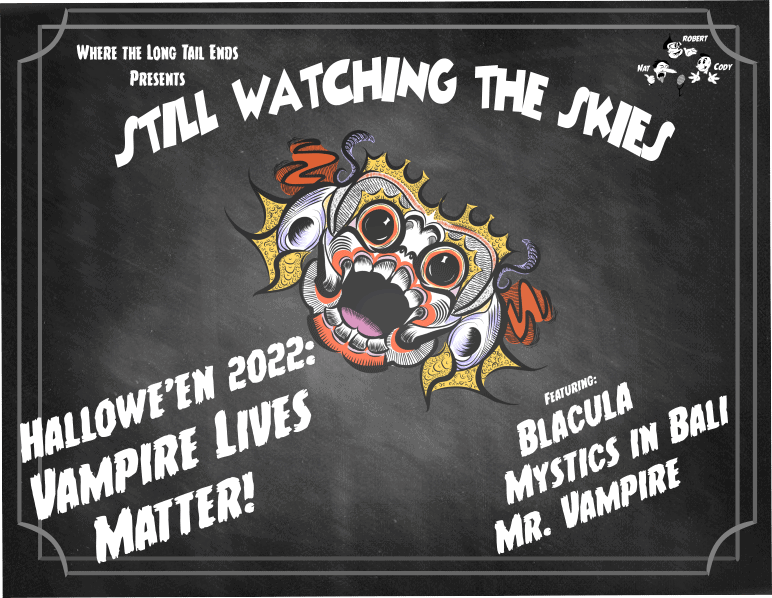 Time tracks:
BLACULA  Discussion: 0:00 to 37:14
MYSTICS IN BALI Discussion 37:14 to 1:03:45
MR. VAMPIRE Discussion 1:03:45 to End
Later this month, we get in a Halloween mood with Peter Hyams's THE RELIC. We hope you'll join us.